Read the funny Jill's Legs joke in Partying & Bad Behavior to make you laugh out loud :) See how long you can go with a straight face :| after seeing the Jill's Legs joke at BasicJokes.com!
Jill's Legs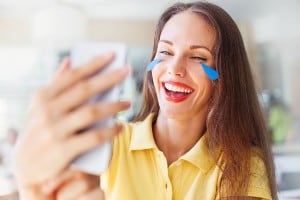 Jill's Legs Joke
What's The Joke Jill's Legs?
So this new bar opens and the owner can't think of a name. So he decides to name the bar after the 3rd person who walks in. It takes dosen't take long and soon the 3rd customer walks in.

The owner jumps up and walks over to the girl. "You're the 3rd person to enter my bar and I'm going to name it after you."

"Okay," she says, "my name is Jill."

The owner looks her over and says, "I like your legs so I'm going to name the bar 'Jill's Legs'"

The next day a bum is sitting outside the bar and a cop askes him what he's doing. He answers, "Waiting for Jill's Legs to open so I can get a drink!"
More Jokes