Read the funny Get in Line joke in Insults to make you laugh out loud :) See how long you can go with a straight face :| after seeing the Get in Line joke at BasicJokes.com!
Get in Line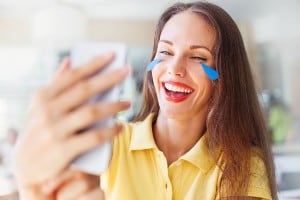 Get in Line Joke
What's The Joke Get in Line?
A crowded flight is cancelled, and a frazzled agent must rebook a long line of inconvenienced travelers by herself. Suddenly, an angry passenger pushes to the front and demands to be on the next flight, first class.

The agent replies, "I'm sorry, sir. I'll be happy to try to help you, but I've got to help these folks first."

The passenger screams, "Do you have ANY idea who I am?"

The gate agent grabs her public address microphone, "May I have your attention, please? We have a passenger here WHO DOES NOT KNOW WHO HE IS. If anyone can help him find his identity, please come to gate 17."

The man grits his teeth, "Screw you."

She replies, "I'm sorry, sir, but you'll have to stand in line for that, too."
More Jokes