The Joke Jenna's Predicament
Read the funny Jenna's Predicament joke in News & Politics to make you laugh out loud :) See how long you can go with a straight face :| after seeing the Jenna's Predicament joke at BasicJokes.com!
Jenna's Predicament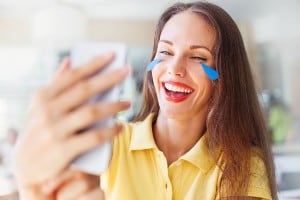 Jenna's Predicament Joke
What's The Joke Jenna's Predicament?
JENNA'S PREDICAMENT

Do we really wonder why Jenna Bush is always high?

Do we wonder why she's sad?

No, we all know why - it's dad.

Jenna's tried to understand

Why he's "King" of all the land

Why some thought it not that odd

to treat him like some sort of "God."

"Sure dad's mind's a little queer...

(I'll just finish up this beer.)

And I know his thinking's off,

(Do we have anymore Smirnoff?)"

"Every Saturday Night he's there

being laughed at, it's not fair,

I, Somewhere, have to draw the line

(Excuse me, can I have some wine?)"

"I never really had a voice

in where I lived, I had no choice

Nobody ever called me dumb

(I think we're almost out of rum.)"

"Whenever Dad opens his mouth

I feel like heading back down South

He just gets dumber by the hour;

(Can you make me a Whiskey Sour?)"

"Oh, well, I guess I've said enough

"(Hey, wait, I didn't get a Puff!!)"

I know some think I've gone too far

(I really need to buy a car!!)"

"These Secret Service Guys are fun

they even mix the coke and rum

FOr all my friends they run the bar

perhaps they'll let me use their car!!"

"Four years will probably go by fast

If I can just stop being harrassed

I need to live the way I oughta...

(I think I'll have a Pina Colloda!!)"

"So keep your cameras off of me and try your best to leave me be

or you will see. I get quite mean

(especially when I drink Jim Bean!!)"
More Jokes